I took a picture of "Usagi-san", which is sold by Daiki Kogyo.
I've been looking at the product image and thought it was usually cute, so I dropped it off.
This figure has only just been released so far, so I hope this will help those who are thinking of buying it in the future. Right now, you can still buy it "before the premiere price" on various mail order sites, so if you're curious about it, I recommend you buy it before the price spikes.
http://www.daikikougyou.com/
Buy at FANZA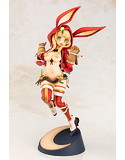 モタ デザイン うさぎさん
Buy at Surugaya
Watch Movie
The box was wrapped in thin paper and carefully packaged. The packaging itself was not much different from other manufacturers' figures and was carefully packaged with large plastic cases and plastic covers.
The box was accompanied by the original illustration. We think you will enjoy it more if you decorate it with figures.
I was surprised to see the box! This time, the figures were "age 15 and up". In short, it's a very wholesome figure!
The poses and colors convey a bright and lively feeling, and the work is genuinely cute.
Cast-off is only possible with the belt. There is no elaboration of the part, but there was a slight streak-like molding.
Incidentally, the nipples are neatly made and can be seen by lifting the hair slightly.
The pedestal and belt parts were also built in very fine detail. There are only 3 parts in total, so it is easy to assemble.
The belt part is of high quality, but it was hard to tell which part could be removed in a good way.
I wondered if it would have been kinder if it had included some sort of instruction sheet that said which part of the belt could be removed.
Buy at FANZA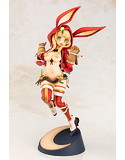 モタ デザイン うさぎさん
Buy at Surugaya
Free Shot
general comment
It was a cute and lively character design and a figure that was sculpted without sacrificing its charm.
Since it's a 1/7th scale figure, it has a strong presence, so it was a highly satisfying item.
I was amazed at the detail of the molding, and the detailed expression of the unevenness, such as the rain of the rope on the hand and the zipper on the bag.
As I've said many times, the age for this figure is 15 and up, which makes it a very wholesome figure. This way, you can display it in your room without worrying about other people's eyes!
I've been spending a lot of time in my room due to the coronavirus, but with a bright girl like this figure, it's going to be a lot of fun to spend time in my room!
Other works by this manufacturer
Other works by Illustrator